Welcome to the Rotary Club of Lakewood Ranch.

Through December 2016 our club will meet at Tara Country Club, except on
July 14th and 21st our club will meet at Holiday Inn on Lake Osprey Drive.
Our club was chartered on April 20, 2001. 
Since that time we have grown from 26 members to over 70 members. 
We are involved in numerous projects in our community and around the world and have given more than $1.2 million to support various charitable organizations.
Who We Are
The Rotary Club of Lakewood Ranch is a group of professional men and women who meet for lunch each week for fellowship and to discuss current local and global topics as well as various issues relevant to the practice and promotion of Rotary ideals in our business and personal lives.
Download a membership application.


SAVE THE DATE
Saturday, November 12, 2016
Sarasota Polo Grounds

Rotary Club of Lakewood Ranch Awards over $81,000 in Grants. Read more.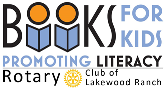 The Books for Kids mission is to raise the reading levels of elementary school students by providing the school with specialized programs, providing books for kids and engaging parents or guardians in literacy based activities.  Learn more.